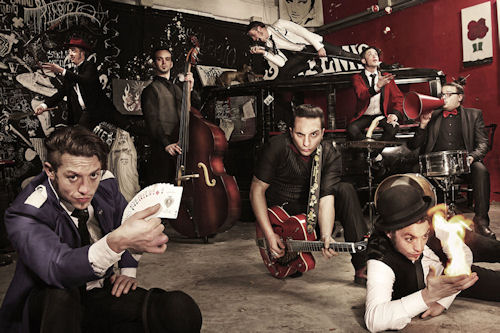 I Slick Steve & The Gangsters sono un quartetto esplosivo formato nel 2011 a Brescia, l'idea è nata da Slick Steve (alias Stephen Hogan), cantante e showman madrelingua inglese e Alle B.Goode, giovane e talentuoso chitarrista riconoscibile per il suo stile Rock'n Roll, a sostenere la sezione ritmica si sono aggiunti in seguito due abili artisti bresciani: Michele Zuccarelli Gennasi (batteria) e Pietro Ettore Gozzini (contrabbasso).
Il progetto è basato su una consapevole contaminazione artistica tra sonorità vintage e moderne, Swing, Rock'n Roll, Rhythm'n Blues e performance circensi, che spaziano dalla magia alla giocoleria.
L'asso nella manica del gruppo è lo spettacolo dal vivo, che riesce a trasformare un evento musicale in un vero e proprio "show" d'altri tempi!
Nota importante nell'attività della band è la collaborazione attiva con gli artisti di "Stilemio", Circolo Culturale Itinerante che gestisce la parte foto, video e grafica del gruppo.
L'omonimo album come opera prima porta il nome della band, a dare inizio alle
danze, una parata circense accompagna l'ascoltatore in un mondo bipolare, che unisce il raffinato al grottesco, Swing patinati a sperimentazioni intraprendenti.
Le sonorità sono genuine, pure e sincere. Aiutano a proiettare chi ascolta il disco nei luoghi descritti dai vari brani: a volte si corre disperatamente in un deserto, altre ci si fa cullare dal mare di un'isola tropicale per poi essere catapultati in un circo o in una vecchia stanza d'albergo. I testi sono fantasiosi, a volte iperdescrittivi, contraddistinti dalla passione del cantante per le arti magiche e circensi. La musica è un matrimonio tra diversi stili, ma per lo più focalizzata verso lo Swing, il Rhythm'n Blues e il Rock'n Roll.
Non bisogna stupirsi se ritmi ossessivi, lasciano inspiegabilmente spazio a giri di valzer o se nel disco si passa da toni cupi a scherzosi in un batter d'occhio, perché questa, apparente, doppia personalità del gruppo, in realtà rivela grande coesione ed affiatamento. Uno stile ben definito. Lo stile unico di Slick Steve and the Gangsters.
ll concept grafico dell'album è stato affidato a "Stilemio", un circolo culturale di artisti itineranti, con il quale la band collabora da sempre anche nella realizzazione di materiale video, fotografico e cortometraggi.
Il disco è stato registrato, mixato e masterizzato negli studi della "Go Down Records" di Savignano sul Rubicone da Alfredo "Epi" Gentili. Il progetto vanta anche due "ospiti": in Strait Jacket Swing, come voce nel ritornello, è stato chiamato l'amico Andy Mcfarlane (chitarrista e cantante dei Rock'n Roll Kamikazes), mentre Liberty bell March, primo brano del disco, è stato arrangiato, suonato e registrato in Inghilterra da David Hogan, cugino di Slick Steve. Fondamentale è stato l'intervento di Carlo Poddighe per la registrazione della voce principale in tre brani contenuti nel disco.
Le tracce del disco:
-Liberty bell march
Piccolo tributo ai Monty Python che usarono questa marcia di John Philip Sousa per la sigla iniziale
della loro serie televisiva Flying Circus. La versione proposta da Slick Steve and The Gangsters è
stata arrangiata, suonata e registrata nel "Call Exchange Studio (UK)" da David Hogan, cugino di
Slick Steve e spesso quinto membro della band come saxofonista.
-Lazy eyed clown
In fondo alla via s'intravedono un vecchio clown dall'occhio spento, un asino a tre gambe, un
carrozzone tutto sgarrupato, sette barboncini appesi a un filo e una valigia piena di miracoli.
-Just run
A volte l'unica soluzione è correre...un brano senza ritornello, perché bruciato in partenza da un riff
martellante e ostinato!
-Strait jacket swing
Swing raffinato che vanta, nel ritornello, la collaborazione vocale di Andy Mcfarlane (ex cantante degli
Hormonauts e ora leader dei Rock'n Roll Kamikazes). A volte neanche una camicia di forza può
frenare la voglia di ballare...
-Ko phangan island
Nel mar della Tailandia si trova una piccola isola...sentite il canto dei gabbiani? ...è lì che si è perso
Slick Steve.
-The bet
Swing cupo e noir, questo è ciò che succede a un losco individuo che tenta la fortuna giocando a
dadi col diavolo!
-Bonebreakers
Storia vera di come Alle B.Goode ha rotto la mano a Slick Steve...fate largo ad una Telecaster
virtuosa suonata con lo slide!
-Small Reaction
In questa canzone si gioca con sonorità vintage in stile quasi manouche. Uno sfogo, un grido, un
invito a reagire.
-King of fools
Ecco come la corte dei miracoli di Slick Steve and The Gangsters, fa sua la contaminazione di generi
musicali diversi...
-Wasted City
Un esperimento, un'esplosione...una città che cade a pezzi. Una colonna sonora psichedelica da film
western in stile Slick Steve and The Gangsters!
-Pink elephants on parade
Versione della celebre canzone contenuta nel film Dumbo prodotto della Walt Disney nel 1941.
Benvenuti al Circo signore e signori!

Artista: SLICK STEVE & THE GANGSTERS
Titolo Singolo: LAZY EYED CLOWN
Autore/Compositore: HOGAN STEPHEN
Album di riferimento: SLICK STEVE & THE GANGSTERS
Etichetta: GODOWNRECORDS
Editore Musicale: LATLANTIDE PROMOTIONS
Genere: Rock'n'roll
Data di uscita: 31 ottobre 2013

Tracking List Album "Slick Steve & The Gangsters" SLICK STEVE & THE GANGSTERS:
1. LIBERTY BELL MARCH (Hogan Stephen)
2. LAZY EYED CLOWN (Hogan Stephen)
3. JUST RUN (Hogan Stephen)
4. STRAIT JACKET SWING (Hogan Stephen)
5. KO PHANGAN ISLAND (Hogan Stephen - Gallina Luca)
6. THE BET (Hogan Stephen - Gallina Luca)
7. BONEBREAKERS (Hogan Stephen)
8. SMALL REACTION (Hogan Stephen)
9. KING OF FOOLS (Hogan Stephen)
10. WASTED CITY (Hogan Stephen)
11. PINK ELEPHANTS ON PARADE (Wallace Oliver George - Washington Ned)
English Version:
The Band
Slick Steve and The Gangsters are a "highly explosive" band from the Italian city of Brescia. Formed in 2011 by Anglo-Italian singer and showman Stephen Hogan (Slick Steve), and Alle B.Goode, a talented young guitarist with an all-consuming passion for Rock'n Roll. Making up the rhythm section skillful drummer Michele Zuccarelli Gennasi and the impeccable Pietro Ettore Gozzini on his towering upright bass complete this entertaining line-up.
The project is based on a conscious artistic cross over combining the band's distinctive vintage and modern sound with circus style performance, alternating Swing, Rhythm'n Blues and Rock'n Roll with magic tricks and juggling.
This is a performance band which has to be seen live in concert. Slick Steve and The Gangsters transform a musical event into a jaw-dropping experience reminiscent of the golden age of rock.
Slick Steve and the Gangsters: the Album.
This debut album has no real title other than the name of the band. The show kicks off with a circus march opening up a crazy schizophrenic world which combines the refined with the grotesque as polished Swing rhythms give way to creative musical innovation.
Genuine, pure and sincere, the sounds in the album transport us to places evoked in the songs: sometimes it's like you're running desperately in a desert, or lulled by the sea on a tropical island; then you're catapulted into a circus or lying in a seedy old hotel room. The descriptive lyrics are imaginative and reveal the vocalist's passion for magic and the circus. The music is a mixture of different styles, but mostly draws on Swing, Rhythm'n Blues and Rock'n Roll.
No surprise then when pounding rhythms inexplicably transform into a playful waltz or if hard sombre tones suddenly become bright and cheerful. What at first may seem as the double personality of this group belies great cohesion and harmony. This is the unique well-defined style of Slick Steve and the Gangsters.
The album's graphic concept is the brainchild of Stilemio, a club of itinerant artists, who have worked with the band on videos and photoshoots.
The album was recorded, mixed and mastered by Alfredo "Epi" Gentili of Go Down Records in the
Italian town of Savignano sul Rubicone.
Two special guests feature on the album: our friend and musician Andy McFarlane provided the backing vocals in Strait Jacket Swing; whilst the famous Liberty Bell March, the album's opening number was arranged and recorded in England by David Hogan (Slick Steve's cousin) who also played all the instruments on the track. Thanks too to sound technician Carlo Poddighe who helped record the main vocal scores for three of the songs.