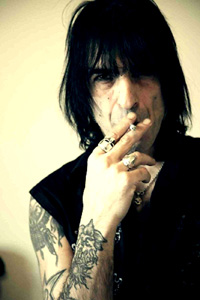 Dome La Muerte (Domenico Petrosino) è uno dei personaggi di culto e leggendari del punk rock italiano: membro fondatore dei mitici CCM (Cheetah Chrome Motherfucker unica band italiana prodotta da Jelo Biafra), band della prima scena hardcore italiana, entra nei Not Moving nel 1982 partecipando alla realizzazione dei dischi storici del gruppo come "Movin' Over", "Black and wild", "Sinnermen", "Flash on you", "Song of myself" fino allo scioglimento nel 1994. Negli anni novanta fonda gli Hush, gruppo precursone dello stoner che per alcuni anni raccoglie successi con l'album "Om". Grande amico di Nico, aprendo i tour italiani dei Clash, Nick Cave and the Bad Seeds, Johnny Thunder' Heartbreackers, Fuzztones, Iggy Pop divenendo lui stesso un'icona del rock'n'roll italiano.
Da anni si occupa di promuovere la cultura dei nativi americani, collaborando a diversi progetti con Lance Henson (Cheyenne) e John Trudell (Soux). Una volta ha anche ba-ciato Caterina Caselli (!). Ha composto e suonato in colonne sonore per spettacoli tea-trali e film: nel 1996 compone alcune musiche per il film "Nirvana" di Gabriele Salvatores. Nel 2005 i Not Moving tornano sul palco in seguito alla pubblicazione di un cd/dvd antologico live per Go Donw Rec ("Live in Eighties") con testimonianze di Gianni Maroccolo, Max Pezzali, Marlen Kuntz e molti altri.
...AND THE DIGGERS
Go Down Rec crede in Dome quando nel 2006 ascolta i nuovi brani: il nuovo progetto è già una band, i Diggers mantenendo il suo nome in accostamento, insieme a Emiliano Giuliani (ex batterista dei Liars, Not Right), Lady Casanova al basso (anche lei membro del primo nucleo dei Not Right) e Matteo "Basetta" Gioli (fondatore dei Thunder Rod Company). Il primo album, omonimo ("Dome La Muerte and the Diggers") è anticipato dal 45 giri "Sorry, I'm a digger" (Area Pirata),ed esce su label Go Down Rec/Area Pirata con ospite Rudi Protrudi (The Fuzztones) a suggellare l'internazionalità del progetto distribuito da Audioglobe. Nel 2008 Bonnie Von Vodka (ex bassista delle Les Valvolettes) subentra a Lady Casanova. Nel 2010 esce il secondo album Dome La Muerte and the Diggers intitolato "Diggersonz " sempre su label Go Down Rec/Areapirata registrato interamente in Spagna in analogico al Circo Perrotti Studio da Jorge dei Doctor Explosion, studio culto in europa per le produzioni rock'n'roll (hanno inciso li i Chesterfield King, The Cynics & more…)
Dome La Muerte - lead vocals shining guitar; Basetta - hair pomade guitars, backing vocals; Bonnie Von Vodka - bass; The Old Colonel Emi - drums.
DISCOGRAFIA DOME LA MUERTE
1978 - con UPPER JAW MASK (45 giri - Chessophonia)
1981 - con CCM - 400 FASCISTS (EP - Chessophonia)
1981 - con CCM Permanent Scare (LP - Belfagor) con I Refuse It!
1984 - con CCM - Furious Party (45 giri - Belfagor)
1983 - con CCM - AA.VV. - P.E.A.C.E. (compilation)
1983 - con CCM - AA.VV. - Flip Side (compilation con Misfits, Dead Kennedies ed altri)
1983 - con NOT MOVING - Movin Over (45 giri - Electric Eye)
1985 - con NOT MOVING - Black and Wild (EP - Spittle Rec)
1986 - con NOT MOVING - Sinnermen (LP - Spittle Rec)
1987 - con NOT MOVING - Jesus Loves His Children (EP - Spittle Rec)
1988 - con NOT MOVING - Flash of You (LP - Electric Eye)
1989 - con NOT MOVING - Song of Myself (EP - Wide Rec) con CCCP, NEGAZIONE, NEON, SICK ROSE
1992 - con NOT MOVING - Dancing (Maxi Single -Wide Rec)
1994 - con NOT MOVING - Home coming (CD - Wide Rec)
1996 - con HUSH - Om
2003 - con NOT MOVING - Land of nothing (LP mai uscito inciso nel 1984 - Area Pirata)
2005 - con NOT MOVING - Live in the 80's (CD+DVD - Go Down Rec)
2006 - con Not Moving & Dome & The Not Right – AA.VV – Wild Sound From The Past Dimension Vol I (Go Down Rec)